American Express Travel: Your Guide to Booking Flights, Hotels, Car Rentals, & Cruises
American Express is best known as a credit card issuer, but the company also offers other products and services, including travel booking and planning using Amex Travel.
While American Express Travel is available for anyone (not just cardmembers), holding an Amex card can definitely help you get extra value when using the program.
Here's a look at what Amex Travel is, what services it provides, what the cost to use, the best ways to use it, and when it's worth using!
What Is Amex Travel?
At its most basic, American Express Travel is an online travel booking portal (or "online travel agency") just like Expedia, Kayak, and Orbitz.
You can use it to book a whole trip or just a flight, hotel (or flight + hotel packages), rental cars, or even cruises. If you'd like extra assistance from a customer service agent, you can book by phone as well.
Flights booked through the portal can be subject to small fees. However, sometimes the benefits can make these fees worth it, and they're waived for holders of the Platinum Card® from American Express.
There are also a few "sub-categories" that fall under the Amex Travel umbrella, including the Hotel Collection and Fine Hotels and Resorts.
Why Should You Use Amex Travel?
The main reason to book with American Express Travel is the incredible customer service. If you run into any problems during your trip (like delays, cancellations, over-bookings, etc.), you can connect with a live travel agent by phone 24/7 who will work with you to find a solution.
Additionally, if you hold an Amex  card that earns Membership Rewards points, you can often earn 2x points or more by using it to pay for travel services booked through Amex Travel.
Hot Tip: If you use your Amex Platinum card, you can earn 5x Membership Rewards points on flights booked directly with airlines or with American Express Travel. 
Fees for Using the Portal
Anytime you book a flight through the Amex portal (either on its own or as part of a package), you'll pay a fee of $6.99 for domestic flights and $10.99 for international flights.
These fees are waived if you have the Amex Platinum card and are logged into your account.
If you choose to book a flight by phone rather than online, there's an added $39 phone service fee.
If you make changes to your flight, there's a $39 reissue fee in addition to whatever fee the airline charges. This only applies to advance changes, not changes due to problems like canceled flights.
Below, we'll take a look at how to use Amex Travel to book flights, hotels, vacation packages, rental cars, and cruises.
Booking Flights With Amex Travel
Searching for Flights
Searching for flights with Amex Travel is similar to other online travel agencies. You can search by city or by specific airport, select your departure and return dates, and click whether you want to search for lower fares within 3 days of your chosen dates.
On the results page, American Express lists the most relevant Delta result at the top highlighted as a "featured airline." The featured airline is followed by the lowest available fares.
When you scroll down, you can use the controls on the left sidebar to filter the results by the number of stops, departure/arrival times, airline, or even specific flight number.
By default, flights are displayed in price order starting with the lowest, except for a featured Delta flight at the top (when available). At the top of the search window above the results, all available airlines are shown, as well as the lowest available price with each airline.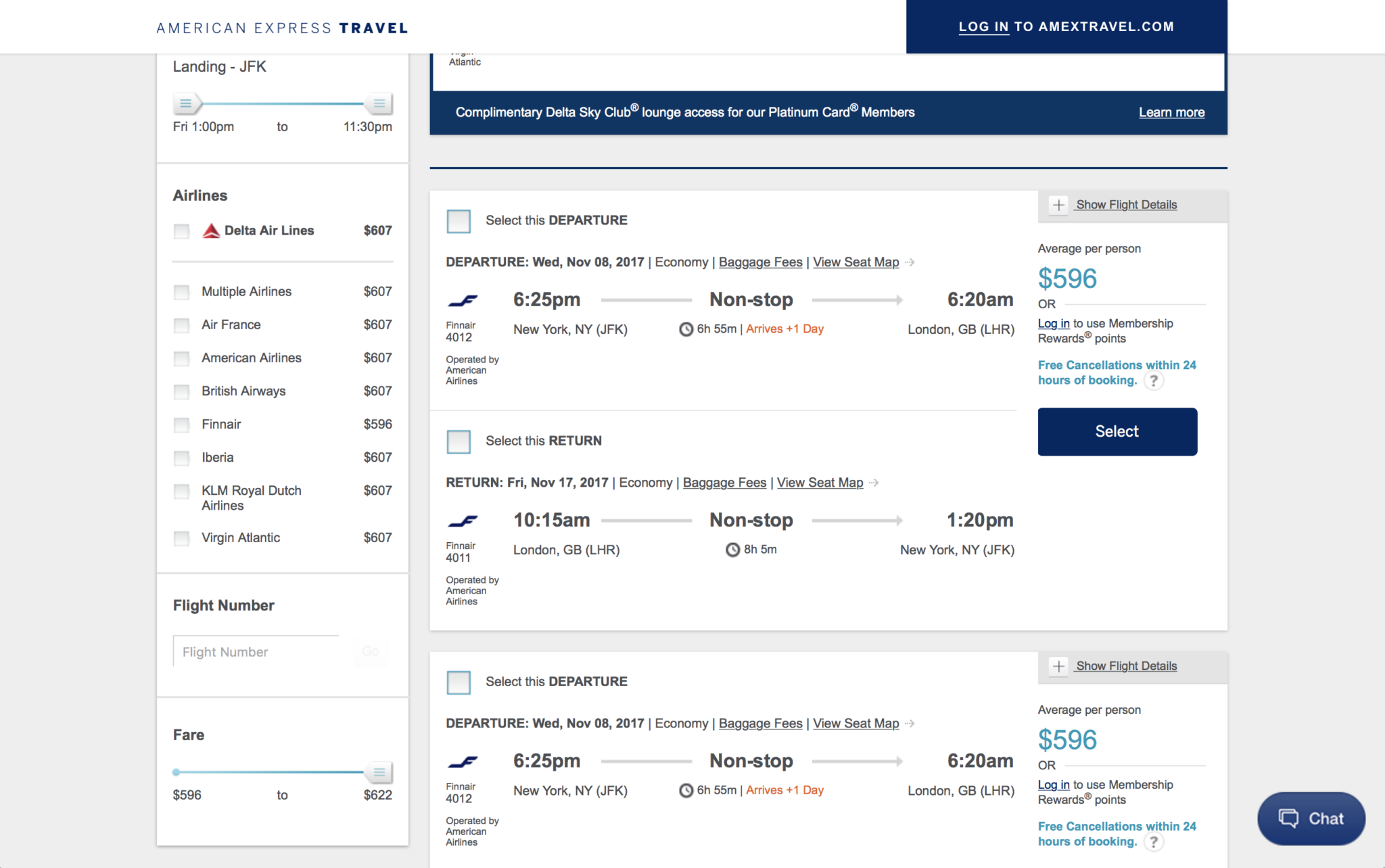 Insider Fares
Depending on your search, you may see a blue tab labeled "Insider Fares Available" above some of the airlines listed at the top of the search window.
These are discounted fares, and they only apply if you pay for the entire flight with Membership Rewards rather than cash. Note that cash prices are rounded to the nearest dollar.
If you're logged in and have enough Membership Rewards points to cover the entire flight, you will be able to see these discounted fares.
For example, in the below search, you'll see an example of an Insider Fare available for purchase. The Insider Fare offered a slight discount rather than just matching the cash price in points with each point worth 1 cent (more on that below).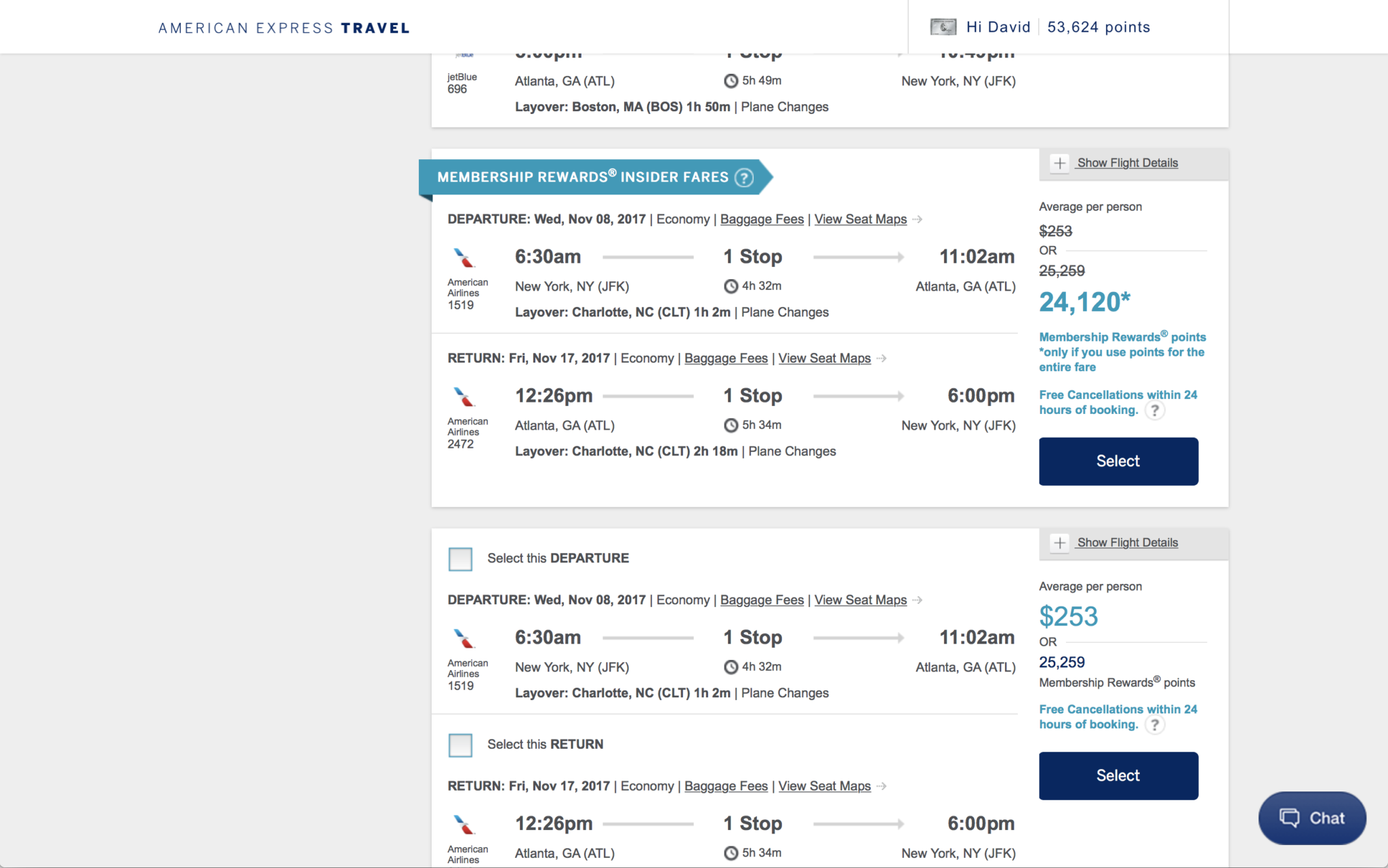 The difference can be fairly minimal. In the JFK-ATL example above, the discount was from 25,259 Membership Rewards points to 24,120 — changing the value from 1 cent per point to about 1.05 cents per point.
Hot Tip: Not sure what the value of your points are? We've done the math on the value of each type of point, including American Express, Chase, Marriott, and more!
Fees
American Express Travel charges a fee to book, but they bundle this into the displayed price. The fee is $6.99 per domestic ticket or $10.99 per international ticket. These fees are waived as a benefit of the the Amex Platinum card, just make sure you're logged into your Amex account when booking.
Rates
When searching several different flights across different online travel agents, we found similar results to the below example each time.
To compare prices, we searched multiple online travel agents and portals using the same search parameters: departing John F. Kennedy-New York (JFK), arriving at London-Heathrow International (LHR), round-trip, 1 traveler, economy, and nonstop on specific dates.
We selected the lowest-priced nonstop flight available through American Express Travel: a Finnair flight operated by Oneworld partner, American Airlines.
When searching on Amex Travel, the flight was $595.86. This breaks down to $133 in base fare and $462.86 of government, airline, and American Express-imposed fees.
We received the same search results when we replicated this search on Finnair's U.S. website, Kayak, and Orbitz.
In a second search, we looked for a domestic round-trip from Phoenix Sky Harbor (PHX) to Los Angeles International (LAX) on the same dates. This flight was priced at $199.40. Keep in mind, you would usually see this rate plus the $6.99 Amex booking fee, but again, this is waived for Amex Platinum cardholders.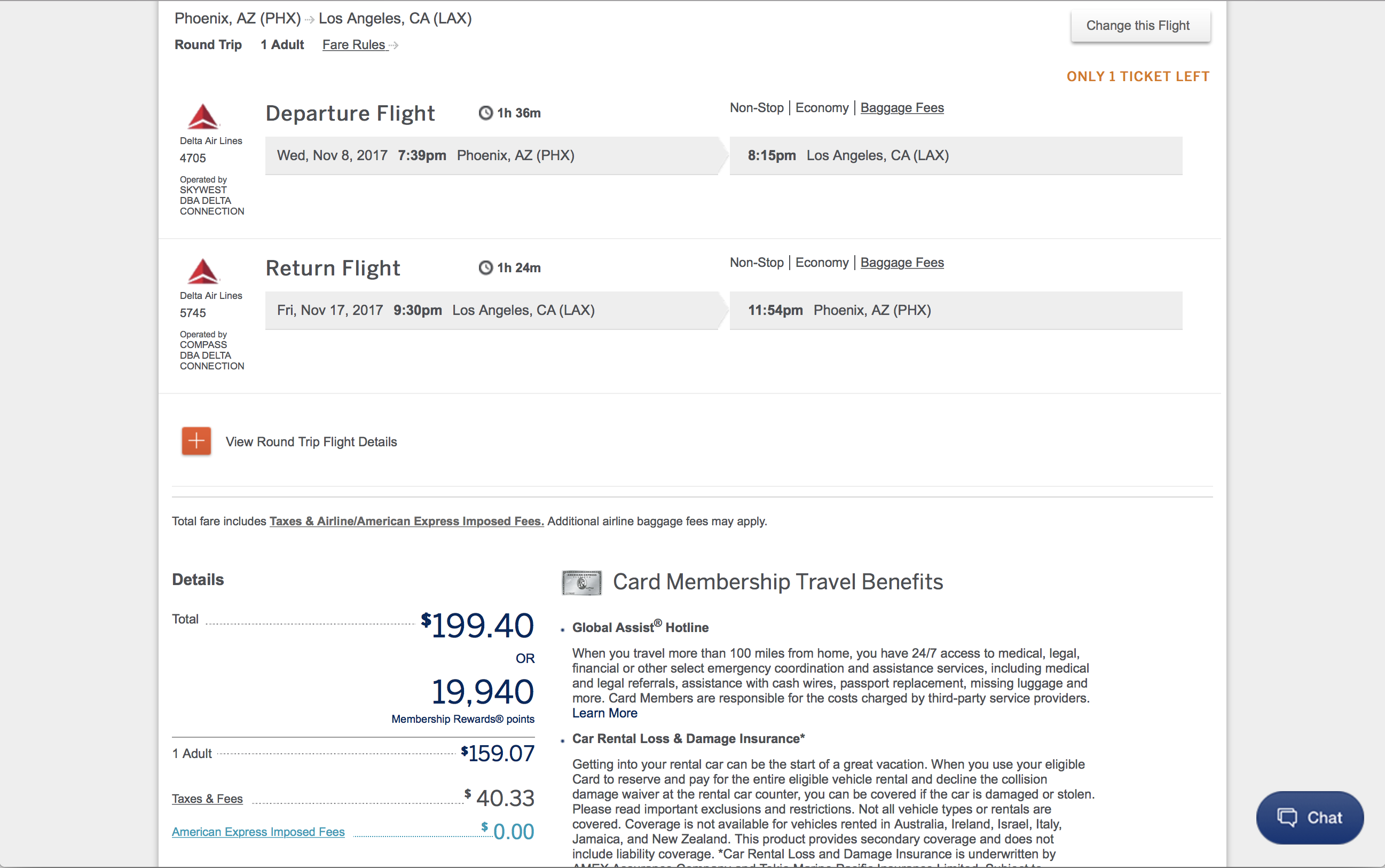 When cross-referencing this itinerary on Delta's website, we found the same price listed for a regular economy fare of $199.40. However, there was a basic economy option that was a bit cheaper, which was not available through Amex Travel.
Other online travel portals, including Orbitz and Kayak, listed the same price.
This means, if you're already set on the specific itinerary you want to fly, booking through Amex Travel can often cost the same as booking directly with the airline, or through a third party. This assumes you receive waived booking fees for being an Amex Platinum cardholder.
However, what if you're just looking for the cheapest flight on a particular day? If you do a general search for a route on set dates, will American Express Travel find the same rates as other portals? In our experience, the answer is no.
In our example search, here are the lowest available regular economy non-stop flights we could find between New York (any airport) and London (any airport) when searching the same set of dates on a few different websites (sorted by price ascending):
| | | | |
| --- | --- | --- | --- |
| Portal/Website | Price | Airline | Route/Airports |
| Google Flights | $407 | Norwegian | JFK-LGW |
| Kayak | $430 | Norwegian | JFK-LGW |
| Directly with Norwegian Air | $430 | Norwegian | JFK-LGW |
| Expedia | $542 | Finnair or British Airways | JFK-LHR, LGW-JFK |
| Orbitz | $546 | British Airways | JFK-LHR, LGW-JFK |
| Directly with British Airways | $559 | British Airways | JFK-LHR, LGW-JFK |
| Directly with Finnair | $559 | British Airways | JFK-LHR, LGW-JFK |
| Directly with American | $560 | American Airlines | JFK-LHR |
| Amex Travel | $571* | Finnair | JFK-LHR, LGW-JFK |
*Including a $10.99 Amex Travel booking fee.
The reason for these results is likely due to the fact that the Amex portal doesn't include some low-cost carriers like Norwegian, so travel portals that do will often win on price.
Even excluding the low-cost carriers, though, other portals like Expedia and Orbitz were able to offer lower fares by about $15.
That said, American Express Travel was able to find about the same fares you would find when booking directly with an airline.
Hot Tip: If you hold The Business Platinum Card® from American Express you can get a 35% rebate on select flights when you pay with points through Amex Travel.
Amex Travel Hotel Programs
There are actually 3 programs offered for booking hotels:
The Hotel Collection
American Express Travel booking (standard)
The Hotel Collection
What Is The Hotel Collection?
The Hotel Collection is a program through American Express Travel only available to holders of certain cards:
Perks of The Hotel Collection
When you book a hotel through The Hotel Collection, you get certain perks including:
Room upgrade at check-in (if available)
Up to a $100 hotel credit for on-site amenities like the restaurant, bar, room service, or spa
Ability to use Pay With Points on prepaid reservations
3x Membership Rewards points for Amex Gold cardholders on prepaid bookings
5x Membership Rewards points for Amex Platinum cardholders on prepaid reservations
Up to $200 credit each year towards prepaid hotel reservations with either The Hotel Collection or Fine Hotels and Resorts
Rates
Usually, American Express guarantees that any hotel booked through Amex Travel will have the lowest publicly-available rates (prepaid rates only), but this rule does not apply to bookings through The Hotel Collection per the terms & conditions. Be certain to check multiple booking options to ensure you're getting the best deal.
Terms
Rooms have to be booked through Amex Travel. That means that if you book directly through the hotel or another service, you won't get the perks, even if the hotel is a part of The Hotel Collection and you pay for the stay with your American Express card.
Further, you must stay a minimum of 2 nights, and you cannot book consecutive stays within 24 hours of each other.
The good news is that these benefits are available for up to 3 rooms per stay. So if you book 3 rooms for family members, you'll get a total hotel service credit of up to $300.
Hotel Points and Elite Benefits
Typically, you won't earn points through a hotel loyalty program if you book through a third party, and this includes the American Express Travel portal.
Further, you won't get any elite benefits that you might otherwise be entitled to if you have status with that hotel chain.
Bottom Line: The Hotel Collection is potentially useful if you're planning to pay with your eligible Membership Rewards-earning card. This comes at the expense of hotel-specific elite benefits, including points and elite credits in any hotel loyalty program.
American Express Fine Hotels and Resorts
What Is the Fine Hotels and Resorts Program?
American Express Travel runs a second hotel program called Fine Hotels and Resorts (FHR). It can be a little bit confusing since it sounds like it would overlap with the Hotel Collection, but that's not the case.
The Fine Hotels and Resorts program is exclusive to Amex Platinum cardholders (personal or business), as well as those with the invitation-only Centurion Card.
FHR includes different hotels and resorts than The Hotel Collection, with minimal overlap. The FHR collection tends to be more geared toward leisure travelers who wish to book stays at higher-end properties.
Perks of Fine Hotels and Resorts
Booking hotels through the Fine Hotels and Resorts collection entitles you to a handful of potentially valuable perks, including:
Early noon check-in (when available)
Room upgrade on arrival (when available)
Daily breakfast for 2 people
Guaranteed 4 p.m. late checkout
Complimentary Wi-Fi
A unique amenity valued at $100 or more; examples include a property credit, dining credit, spa credit, or similar amenity
Rates
Unlike The Hotel Collection, rooms booked through Fine Hotels and Resorts are not all prepaid. In fact, most are standard rates that you'll pay for at the end of your stay when you check out. In comparing several properties, including the Park Hyatt in Chicago, we found rates identical to the non-prepaid rates when booking directly through the hotel.
However, keep in mind that the hotel may directly offer prepaid and early-purchase options which may be much cheaper, though you won't benefit from the Fine Hotels and Resorts perks.
Terms
There are fewer terms with Fine Hotels and Resorts than with The Hotel Collection. You must book through American Express Travel/FHR to receive the benefits.
As with The Hotel Collection, if you book directly with the hotel or through a different travel agency or portal, you won't be able to claim FHR benefits even if it's a participating hotel. Other terms vary by property.
Hotel Points and Elite Benefits
Good news here! Unlike stays booked through The Hotel Collection, stays through American Express Fine Hotels and Resorts count as "qualifying rates" for hotel loyalty programs. That means if you're staying at a hotel that's part of a loyalty program, you'll be able to earn points and receive the relevant benefits if you hold elite status.
Hot Tip: Want to know about the differences between these programs? Dig into our dedicated guide on the differences between the Hotel Collection and Fine Hotels & Resorts.
Standard Hotel Booking
Searching Hotels
Searching for hotels at Amex Travel works more or less the same as with flights. You enter your city, dates, number of rooms, and guests. You can check a box to have properties from The Hotel Collection and Fine Hotels and Resorts displayed at the top.
Of course, if you're interested in booking through either of those programs, you could also just book on their dedicated pages.
By default, search results are ranked by "recommended," which seems to be decided by an algorithm factoring in price, location, and reviews.
Terms
Terms vary by the specific hotel and rate you book, so make sure to read the fine print.
Rates
The site can be a bit confusing when trying to compare prices since American Express doesn't include all taxes and fees in the price displayed (while some hotel websites do).
For example, we searched for a 4-night stay at the Hyatt Regency London – The Churchill. American Express quoted an average of $337/night, which should make the total stay around $1,348. When you go to book, though, the total with fees is $1,625.
While it initially looks more expensive to book directly with Hyatt (where the cost is quoted at $404/night), that price includes all taxes and fees, so you'll actually pay $1,611, or $14 less.
Our search for the Marriott Regent Park yielded similar results. It's listed at $233/night in the search function, which implies the total to be $932.
In reality, once you click through, the total is $1,120. Booking directly with Marriott, rates are listed at $261/night, but that includes taxes and fees — for a total prepaid rate of $1,080.
For the 2 hotels in question, here's how total prices compared through different portals (sorted by price ascending):
Marriott:
| | |
| --- | --- |
| Portal/Website | Price |
| Marriott.com | $1,080 |
| American Express Travel | $1,120 |
| Expedia | $1,120 |
| Hotels.com | $1,120 |
| Kayak | $1,120 |
| Orbitz | $1,120 |
Hyatt:
| | |
| --- | --- |
| Portal/Website | Price |
| Hyatt.com | $1,611 |
| Booking.com | $1,617 |
| Kayak | $1,617 |
| Expedia | $1,620 |
| Orbitz | $1,620 |
| American Express Travel | $1,625 |
In both tickets, American Express Travel was within a few dollars of the other online travel agencies, which were all more expensive than booking directly through the hotel's website.
Hotel Points and Elite Benefits
Similar to The Hotel Collection, rates booked through American Express Travel aren't eligible for elite benefits or hotel loyalty points.
Bottom Line: Like most other online travel portals and agencies, prices can vary between Amex Travel and the hotel's direct booking channel. You won't get elite benefits or hotel points, so it might be worth booking directly if those are valuable to you. 
Flights+Hotel Packages
Like with many online travel portals and even airline websites, you can book packages that include flights and hotels through Amex Travel. Usually, the point of booking these packages is to get a discount, special perks, or promotions.
Searching for Packages
The search window for Flights+Hotels is simple: input airports (or cities), dates, number of travelers, and rooms. Results are listed in a recommended order by default just like when searching for a standard hotel.
Terms
Terms vary by the specific package you book, so make sure to read the fine print!
Fees
As with standalone flight reservations, Amex Travel charges a fee to book Flights+Hotel packages: $6.99 per domestic ticket or $10.99 per international ticket.
Again, these fees are waived for holders of the Amex Platinum card or the Centurion card.
Rates
In the results field, a total starting price per person is listed, including all taxes and fees with the cheapest flight option. American Express also lists how much you're saving with the package, although this is missing for some hotels.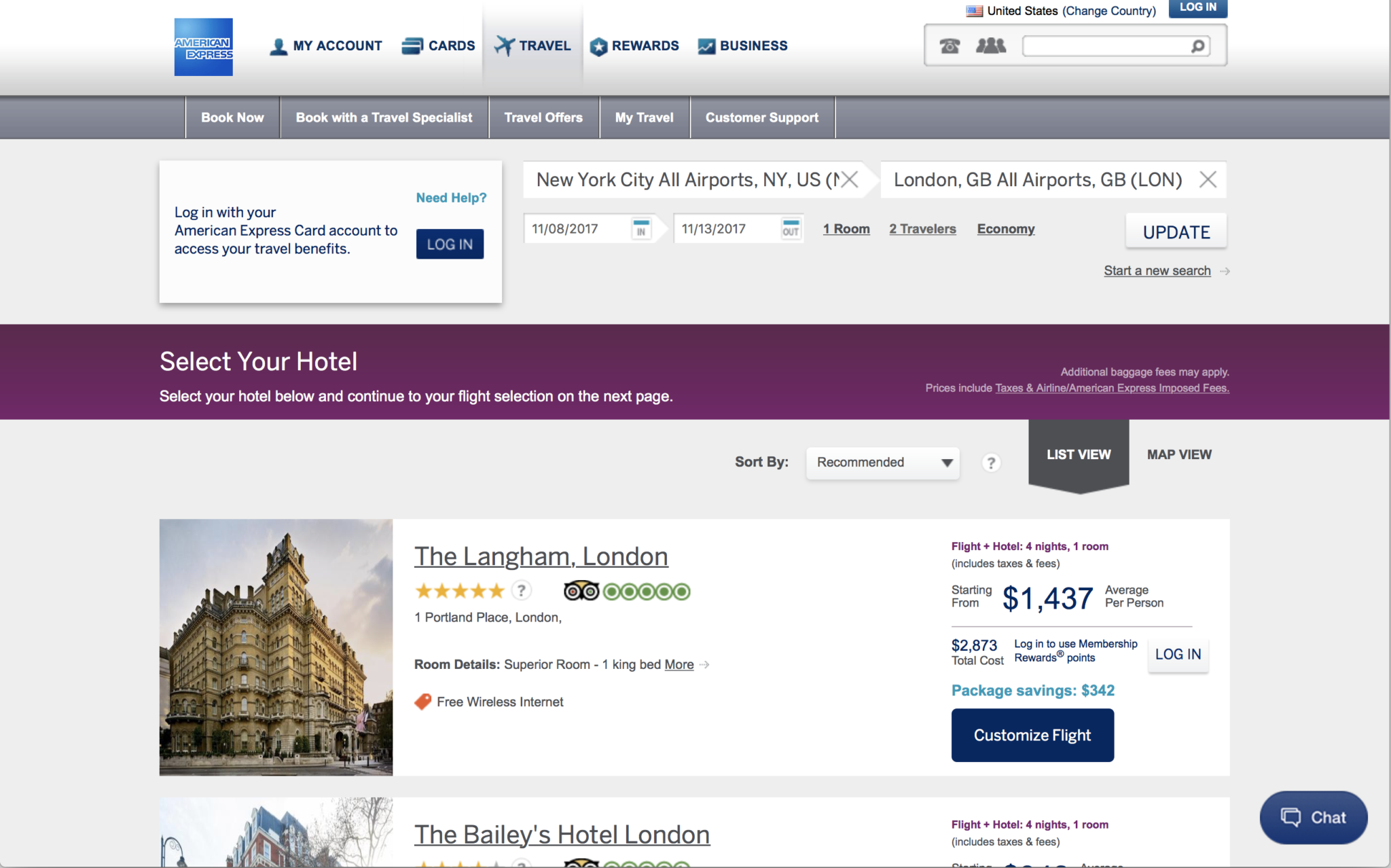 Once you select the hotel, you can customize your flight. The total price changes based on which flight you select.
In a sample search, we chose the Hyatt Regency London – The Churchill, and picked the cheapest nonstop flight: British Airways flight, which was Newark Liberty International (EWR) to LHR and London-Gatwick (LGW) to JFK. The package came to $1,446 per person, or $2,892 total.
Compare Flights+Hotel to Booking Separately
Annoyingly, American Express Travel doesn't show a breakdown of hotel and airfare costs and fees; instead, it just displays a total per person.
For comparison, you can search the flight and hotels separately. We tried searching for the flight first on the same day.
We found Finnair flights operated by American Airlines for $660 per person — an option that wasn't offered as part of the package (although with the booking fee, the flights should have been $671). When we filtered the search to British Airways only, it showed a ton of options for $671.
Searching hotels next, we again chose the Hyatt Regency London – The Churchill's lowest prepaid rate. It was listed as $337 per night for 1 room (plus taxes and fees), for a total of $2,031. For the 2 flights and the hotel, that comes to a total of $3,351, or $1,675.50 per person.
In this case, booking the trip as a package saves almost $460, even though the search results page didn't highlight any savings specifically.
Downsides
The main downside to booking a package is that you have less flexibility. Say you want to change hotels for part of the trip or maybe stay with a friend for the last few days. This isn't an option because you must book a single hotel for the entire time between your flights. It can also make solutions harder to find if there are any problems — although the American Express Travel customer support should make up for that.
Bottom Line: If you're using American Express Travel and your plans allow for the lack of flexibility, you might be able to save a lot of money with a package. Just make sure to compare the listed price to booking everything separately. Note that you can't book a package retroactively: you have to book the flights and hotel at the same time. 
Rental Cars
American Express Travel also offers a rental car booking service. You can make reservations from rental stations at airports and elsewhere.
Searching
To search for rental cars, simply enter an airport or city. You can also click a button to search near a specific address.
Results are shown in a handy grid format, with each column showing a different rental company, and each row displaying the pricing for a different category of car (economy, compact, midsize, and so on).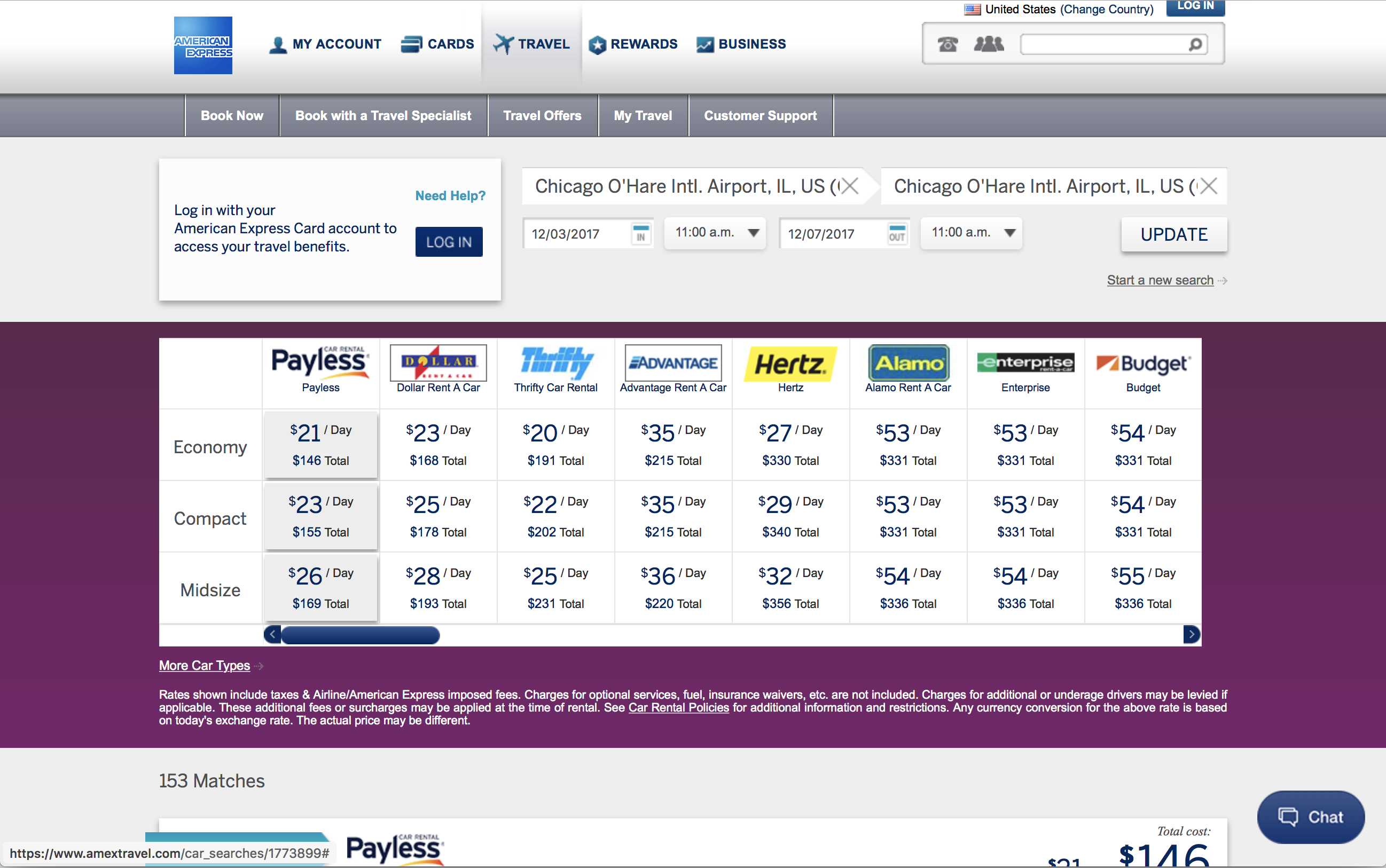 Rates
Bookings of up to 4 days are charged a daily rate, while bookings 5-7 days are charged on a weekly basis. There are specific rates for weekends and weekdays, as well as monthly options, with specific details varying by the rental agency.
In several sample searches, prices were generally consistent with other online travel agencies — though sometimes lower by $1-$2/day. Prices were identical to booking with the rental company directly.
Bottom Line: Renting a car through Amex Travel doesn't get you any benefits above what you'd receive for paying with your credit card, such as the collision damage waiver for paying with your Amex Platinum card. However, the convenient search page makes it a great option for comparing multiple prices at once. 
Cruises
Amex Travel also offers tools to book cruises. In addition to letting you search for cruises all over the world, Amex Travel periodically highlights special offers on cruises, usually in the form of credits to use onboard.
Searching for Cruises
To search for cruises, you need to enter the region you want to travel in, the cruise line(s) you want to travel with (or search all available lines), the month you're planning the trip for, and the approximate length of the cruise you want.
Results are shown in order, from the lowest-priced option to the highest. Note that this is based on the lowest available rate; hovering over any result will show all available cabin types and the corresponding prices.
Under each result, the information shown includes the port of departure/return, date of departure, and ports visited.
Hot Tip: Wondering what to pack for your time at sea? Check out our ultimate cruise-based packing list — it's printable and complete with tons of tips and advice!
Rates
Cruise rates booked through American Express Travel were within $1-2 of rates found on other online travel agents and websites. We found identical prices on the various cruise company websites — though each online travel portal and cruise line offers different promotions, so it might be worth comparing them.
For example, during a sample search for a weeklong Caribbean cruise in December, we found that Royal Caribbean was offering a $50 onboard credit if you booked directly.
Special Offers
On the search results page, you might notice a tab labeled "Special Offers." Those offers are generally onboard credits, but can also include discounts or other special features. If you aren't committed to a specific cruise line, these are often worth exploring.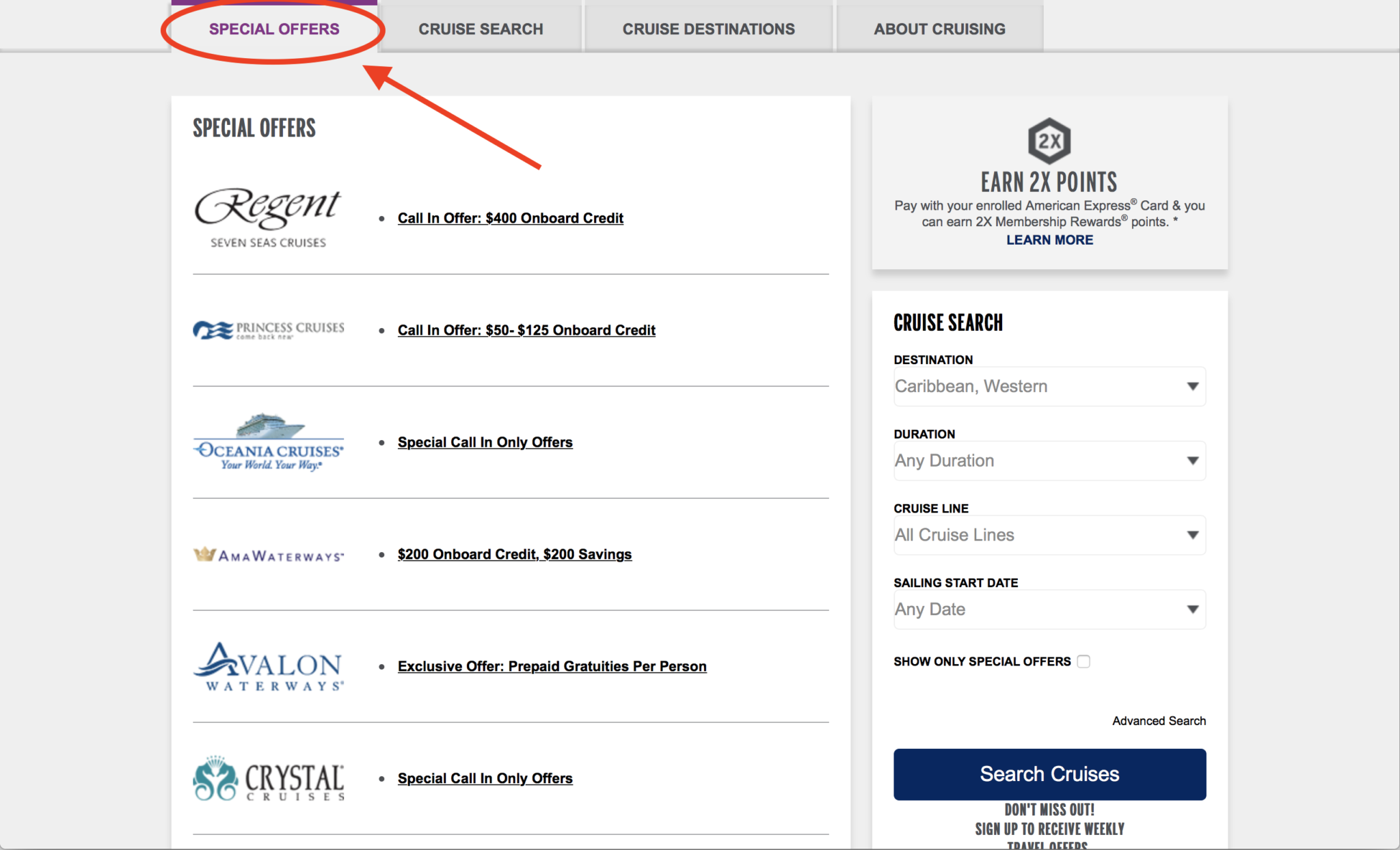 Cruise Privileges Program
Those with the Amex Platinum card have special access to the Cruise Privileges Program. Like the Fine Hotels and Resorts program, this is only available on specific cruises, although it's more limited than FHR.
It includes onboard credit (often higher than otherwise offered) and a special onboard amenity, like complimentary dinner for 2 or a bottle of premium champagne.
Bottom Line: It can be worth booking a cruise through American Express Travel, especially if there are special offers. Make sure to compare different booking sites, though, as some may have better or exclusive promotions.
Amex Travel Insiders
Amex Travel offers a feature called Travel Insiders. When you use the program, American Express connects you with a travel expert who can help you plan an itinerary based around your desired destination. Fees vary based on location, length of the trip, and details of the itinerary.
Final Thoughts
Amex Travel can be a very useful tool when booking flights, hotels, vacation packages, cruises, or rental cars. In many cases, it may not offer the best rate options, but it's worth comparing to other booking sites and airlines or hotels directly.
If you have an American Express card that offers access to the Hotel Collection or Fine Hotels and Resorts, the perks can be very worthwhile.
Additionally, the extra Membership Rewards points you earn by booking through Amex Travel can be valuable, as long as the price is right.
Aside from the Hotel Collection and Fine Hotels and Resorts, the real value of American Express Travel is in the customer service provided. Booking a trip on your own is easy — dealing with problems when they arise can be less so!
If you book through Amex Travel, you'll have easy access to someone who can help you get on a new flight, find a new hotel, or manage whatever other issues come up day or night. So if you're looking to have that extra support, then Amex Travel might be a great choice for you!